[ Previous | Index | Next ]
These sketches all take place after the return of Warplet. Here are some DM members on a hunt, taking a rest in the Meadow in Tanglewood.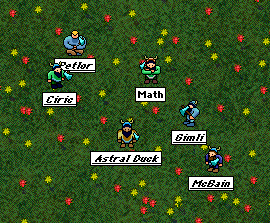 And then Warplet joined us. I had bought him the new pants and shoes. BEER!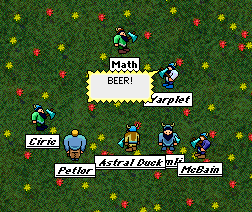 Here is a council meeting in North Forest, with the addition of Crazy Chicken. Note that beer was very expensive at the time, hundreds of coins per mug. We had all probably poured the beer from kegs that washed ashore after we repulsed a Darshak raid. Note also Warplet's white pants--he made second circle remarkably quick, library ranks notwithstanding.

Here is an average meeting. Note Hunter I applying for membership, and Astral Duck discussing Dun'ilsar, which he was in charge of at the time.