The Dwarven Militia is a clan on Clan Lord. It is the second oldest clan in existence, and is a strong clan with members, history, and honor. Are you a Dwarf, or do you have the heart of a Dwarf, and a taste for good drink? Come join us as we stoutly fight our foes: the Orga, the Darshaks, the Ascendancy!

Our battle-cry is: "BEER!" We yell it when headed into combat or when rescuing fallen exiles to identify ourselves as the Dwarven Militia.

Like most Dwarves, we all enjoy a good ale at the pub. We also go on frequent hunting trips. Our main goals are three:
To get rich.
To get powerful.
To get drunk.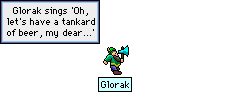 If this sounds appealing to you, please read our charter, then ask a current member about joining. You don't have to be a Dwarf (though it doesn't hurt), but you do have to be Dwarf-friendly.
We meet every Tuesday at 7:30pm Pacific Time, at the Alliance Castle. Come hunt with us!
---
Last Revised: Thu Sep 10 00:50:23 PDT 2009 math@beer.dwarvenmilitia.com